This Course Includes
Fully qualified instructor
UKATA Certified
Course Description
Non-Licensable and Notifiable Non-Licensed Works with Asbestos (Formerly known as Category-B course)
This course is for people requiring training in the safe removal of Non Licensable Asbestos Materials.
The course combines classroom based theory and hands on practical training.
Aims
To give you an overall understanding of asbestos removal techniques
Inform you of the types of asbestos you may work with
To provide you with the theoretical and practical knowledge and skills to undertake non-licensed works with Asbestos Containing Materials.
Objectives
By the end of this course you will:
Be familiar with what works are classified as licenced works - non-licensed works and what non licenced works require notification to the HSE.
Be familiar with the control measures that will be required to undertake non-licensed work with asbestos containing materials
Understand the requirements to prevent the spread of asbestos and control exposure
How to undertake specific tasks as described in HSG210
How to deal with the waste generated
How to adequately decontaminate
Modules
UKATA ASBESTOS NON-LICENSED OPERATIVE (NNLW)
Course Content:
Types of Training
Asbestos awareness
Health and Safety at Work etc. Act 1974
History of Asbestos
CAR 2012 legislation
Duty to manage asbestos in non domestic premises
Refurbishment / Demolition Survey
CAR 2012: ACoP
Control of Asbestos 2012
Regulation 4 - Duty to manage asbestos in non-domestic premises
Regulation 5 - Identification of the presence of asbestos
Regulation 6 - Assessment of work which exposes employees to asbestos
Approved Code of Practice and Guidance Notes
Categories of Asbestos Works
Ancillary Work
Supervisory Work
How do you decide if the works are NLW, NNLW or LW
Non licenced works with Asbestos
Examples of Maintenance Work
SALI
What type of work is Notifiable Non Licenced Work?
What is the ACM you will be working withWhat condition is the material in?
Examples of Notifiable Non Licenced Work
Notifiable Non Licenced Work
Notifications
Notification Form (ASB NNLW1)
Safe System of Work and Risk Assessment
Information, Instruction, Training and Supervision
Working with Asbestos Containing Materials
Working With Asbestos
Respiratory Protection Equipment
Selection of Personal protective equipment
Regulation 11 - Prevention or Reduction of Exposure to Asbestos
Handling Techniques
Regulation 12 - Use of control measures
Regulation 13 - Maintenance of Control Measures
Accidents, Incidents and Emergencies
What to do if you discover or Damage ACMS
If an incident has occurred
Regulation 15 - Arrangement for Emergencies
Regulation 16 - Preventing the spread of asbestos
Regulation 17 - Cleanliness of Premises and Plant
Regulation 18 - Designated Areas
Regulation 19 - Air Monitoring
Regulation 22 - Health Records and Medical Surveillance
Record Keeping
Conventional Hazards
Asbestos Essentials
Building and Dismantling a Mini-Enclosure
Using a Class H Vacuum Cleaner for Asbestos
Wetting Asbestos Materials
Personal Protective Equipment
Using damp rags to clean surfaces of minor asbestos contamination
Personal Decontamination
Disposal of Asbestos Waste
Statement of cleanliness after textured coating removal
Emergency Plan
Safe System of Work and Risk Assessment (Regulation 7)
FAQ's
UKATA ASBESTOS NON-LICENSED OPERATIVE (NNLW)
Q: Is this a classroom course?
A: Yes.
Q: Do I get a certificate for completing this course?
A: Yes and the certificiate is valid for 1 year upon completing the course.
Q: How do I get my certificate?
A: We will issue you certificate on completion of the course once the invoice is paid.
Q: Is this a certified course?
A: Yes. PERSES is certified to deliver this course by UKATA. Check out the UKATA directory, which can be found HERE.
Course Accreditation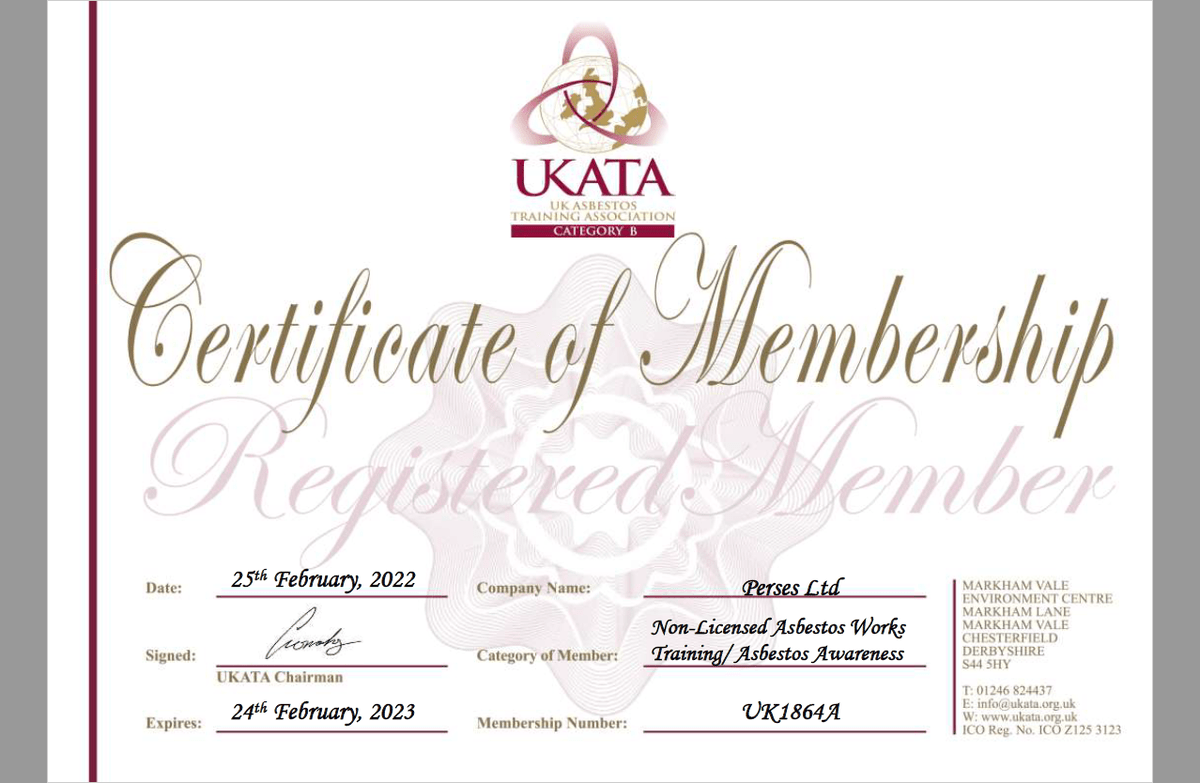 Key Details
Duration

1 day

LEARNING TYPE

Classroom

CERTIFIED BY

UKATA and CPD
Enquiry form - UKATA Asbestos Non-licensed Operative (NNLW)
Your enquiry has been submitted. We will get back to you as soon as possible