This Course Includes
Fully Trained Instructor
Practical Assessment of Hotworks in a Designated or Prepared Area
Course Description
Foundation Level Oxygen and Propane Cutting
Hot work means the use of open fires, flames and work involving the application of heat by means of tools or equipment.
This includes the unintentional application of heat, for example by the use of power tools or hot rivets or hot particles from cutting or welding operations, falling onto and igniting flammable material or flammable vapours.
Aims
To teach you the basic principles and methods so you can safely carry out burning operations.
Objectives
By the end of this course you will:
Understand the basics of burning
Be able to check all equipment and record the checks
Understand the importance of a risk assessment
Understand the importance of a permit to work
Be able to select the correct fire extinguisher
Understand the basics of first aid for burns
Modules
LEVEL 1 OXY-FUEL
Course Content:
Personal Protective Equipment
Proper Eye Protection
Hygiene when carrying out hot work
Personal hygiene
Lead
Hazardous coatings
Risk assessment
Hot Works Permit
Hidden Hazards
Cylinder identification
Storing Cylinders
Compressed Oxygen
Cutting torches
Gauges and flashback arrestors
Torch vs Regulator Flash Back Arrestors
Preventing Gas Leaks
Checking for gas Leaks and Ventilation
Tanks and Drums
In the news
Explosive potential
Backfires
Flashbacks
Protecting Cylinders from Flashbacks
Equipment Inspection
Safe cutting procedures
Equipment Testing
Lighting Procedures
Safety in Cutting
Closing down procedures
Emergency Controls
Fire fighting equipment
Fire Tetrahedron
Means of Fighting Fire
Specialist extinguishers
First Aid
Treating burns
FAQ's
LEVEL 1 OXY-FUEL
Q: Is this a classroom course?
A: Yes. This course focuses heavily around a practical teaching method.
Q: Do I get a certificate for completing this course?
A: Yes and the certificiate is valid for 3 years upon completing the course.
Q: How do I get my certificate?
A: We will issue you certificate on completion of the course once the invoice is paid.
Q: Is this a certified course?
A: Yes. Check out the Course Accreditation tab on the course for information.
Course Accreditation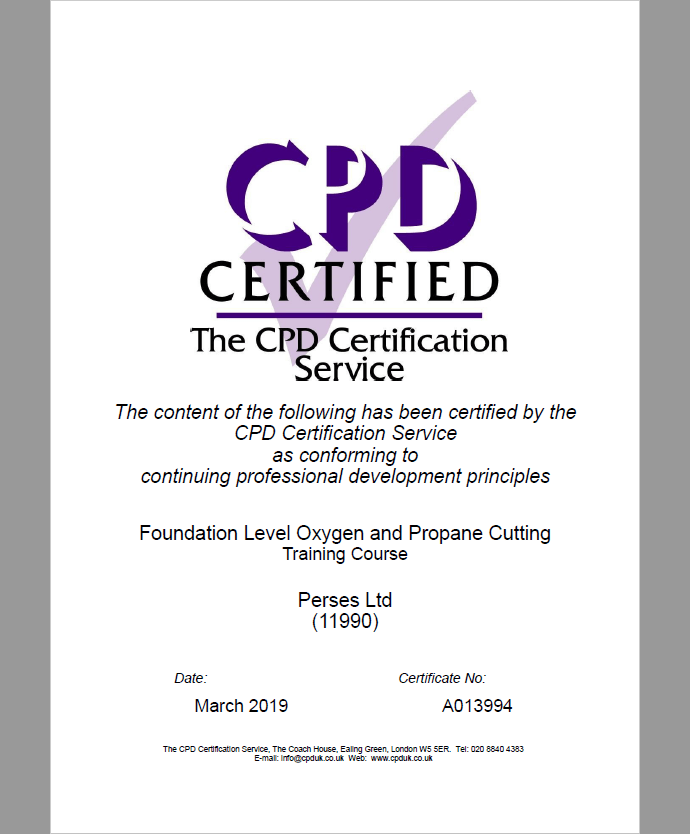 Key Details
Duration

1 day

LEARNING TYPE

Classroom

CERTIFIED BY

CPD & PERSES Ltd
Enquiry form - Level 1 Oxy-Fuel Cutting
Your enquiry has been submitted. We will get back to you as soon as possible