This Course Includes
End of course certification
CPD Certified
Course Description
This Fire safety course is designed to give learners a general understanding of fire risks in order to better enable them to deal with a fire situation.
OBJECTIVES:
Understand the and demonstrate the operation of fire extinguishers
Understand the triangle of combustion
Explain the classes of fire and methods of extinction
Be able to select the correct fire extinguisher;
Be able to explain the correct evacuation procedures.
Modules
FIRE SAFETY AWARENESS E-LEARNING
Course Content:
INTRODUCTION TO FIRE SAFETY
HISTORIC CASES
Bradford City Stadium (1985)
Kings Cross Station (1987)
Great Fire of London (1666)
Great Fire of Edinburgh (1824)
LEGISLATION
PREVENTATIVE MEASURES
General Points
Fire Alarms
Escape Routes and Exits
Typical Fire Statements
Means of escape (M.O.E) in case of fire
FIREFIGHTING EQUIPMENT AND CLASSIFICATIONS
Portable Firefighting Equipment
Fire Classifications
Fire Extinguishers
Powder Fire Extinguishers
Fire Safety Risk Assessment
Fire Safety Test
FAQ's
Q: What is E-Learning?
A: E-Learning is a course that is completed online
Q: Do I get a certificate for completing this course?
A: Yes and the certificiate is valid for 1 year upon completing the course.
Q: How do I get my certificate?
A: Once the course has been completed, you have the option to download the certificate directly.
Q: Is this a certified course?
A: Yes. Check out the Course Accreditation tab on the course for information.
Course Accreditation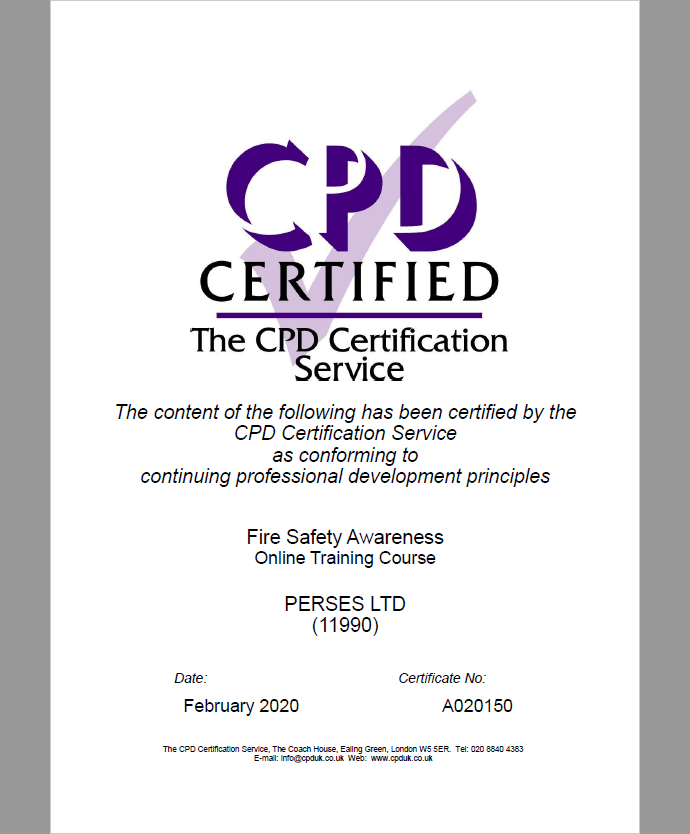 Key Details
Duration

4 hours

LEARNING TYPE

E-Learning

CERTIFIED BY

CPD & PERSES Ltd
Enquiry form - Fire Safety Awareness
Your enquiry has been submitted. We will get back to you as soon as possible